Study Aids! We have them - what are they and why use them?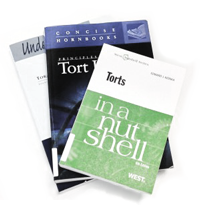 What are Study Aids?
Study aids are introductory texts that explain various topics of law in a straightforward, narrative manner. They include the Nutshells, Examples & Explanations and Understanding Series as well as Outlines with practice questions. As mentioned above, almost every major legal publisher puts out at least one series of study aids. Hornbooks and treatises provide more through, detailed examinations of the law.
Why Use Study Aids?
Study aids help you prepare for class and exams. They review and reinforce class instruction, they compliment your own reading, class preparation and outlining. You may want to ask you professors for specific recommendations. Your classmates and the reference librarians may also have additional suggestions for supplementary reading.
What Study Aids are Available at the Law Library?
This guide focuses on the study aids covering Civil Procedure, Criminal Law, Contracts, Property, Torts and Legal Research & Writing. However there are many additional study aids for most subjects taught in law school. They are available online, accessible through the Law Library's database list and in the Library's Reserves Collection in print. You can find them by searching Lawcat, our online catalog, by subject, series, or call number.
You also have access to Computer Assisted Legal Instruction (CALI) — an interactive computer-based lessons. CALI is available online. If you would like to use CALI, logon with your CalNet ID and follow the registration instructions.
For examples of exams given by Berkeley Law professors in previous semesters, see the Library's exam database.
Does the Library have Study Aids in print as well as online?
Current editions of all print study aids are in the Reserve Collection and can be checked out for 4 hour library use. Older editions of Nutshell Series are in the stacks and can be checked out. This guide indicates "Location:Stacks" for those few treatises listed that are not in the Reserve Collection.