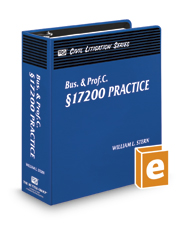 Bus. and Prof.C. §17200 Practice (The Rutter Group Civil Litigation Series). Practice Guide for litigating cases under California's unfair competition and false advertising laws. Covers a range of topics including California Unfair Business Practices Act, false advertising laws, class actions and Consumer's Legal Remedies Act. Available in Reserves and on Westlaw.
California Judges Benchbook. Small Claims Court and Consumer Law. Written from a judges perspective. Covers litigating a small claims case, consumer protection laws and landlord-tenant issues among other topics. Available in Reserves.
Matthew Bender Practice Guide. California Debt Collection and Enforcement of Judgments. Discusses all aspects of debt collection procedure and litigation from start to finish in California. Covers how to enforce a judgment, locating assets as well as preserving assets. Available on Lexis.
Debt Collection Practice in California (California Continuing Education of the Bar). Covers collecting debts in California as well effective defense strategies. Available in Reserves and electronically on CEB's OnLAW database.